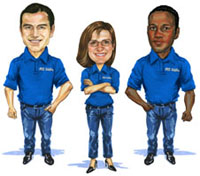 The POS Geeks, LLC is a Los Angeles, California based company specializing in Restaurant POS Systems and Retail POS Systems. We provide a one stop shop for complete POS System solutions. With a focused range of innovative products and services including DVR Security System solutions, The POS Geeks can help you take control of your business by improving your profitability, accuracy, and maximizing the efficiency of your employees. Our Point of Sale equipment and software will give you fast, reliable, and secure support at any level. We will consult with you to provide well balanced POS Systems regardless of what size your company is. That is why we stand by our clients from the initial planning stages, installation, training and ongoing support.

Our POS System solutions offer the best value for your money with no reoccurring yearly license fees. We offer competitive pricing with 24/7 live support along with Free shipping on all U.S. orders! Our POS Systems ships fully configured out of the box. Once you receive your POS System, simply plug it in and you are ready to process orders right away!

We have knowledgeable sales representatives available to help you find the Point of Sale System for your retail store or restaurant establishment. Call us at 1.877.987.4335 M-F 9:00 AM to 6:00 PM PST.